While the Seattle real estate market is red-hot, there are always a few renovations you can make to your Seattle home to ensure a faster sale and a higher return on investment (ROI).


Before getting started, consider the work. You might have to find a contractor, make aesthetic decisions that will impact the future appearance of your home, and determine how to pay bills along the way. And while making renovations just to sell your Seattle home may seem counter-intuitive (why fix it up for someone else?), the answer is simple.


TIP: You will be able to sell your property faster—and for a higher price—if your amenities are modernized and the home is in tip-top shape.


Below are a few renovations to consider to increase your ROI on a Seattle home for sale.
1. Exterior renovations
Updating the exterior of your home can pay high dividends when you're ready to sell. Curb appeal, how the outside of your home presents itself to potential buyers, should never be neglected when prepping your home for the market.


TIP
: As prospective buyers pull up to the property, they will make a few split-second decisions about the home before even stepping inside. If the outside of your home is beautiful and updated, your buyer will assume there are more good things inside.
2. Update curb appeal - Go BIG or small
When you think of renovations, you might initially imagine large-scale endeavors. However, there are numerous small, cost-effective ways to intrigue buyers and boost the return on investment for your property.


TIP
: Landscaping is a simple but impactful way to make a fantastic first impression. Plant fresh blooms and greenery to add a polished but welcoming feel to your front yard. Your Local Nursery and Hardware stores will have some great deals on inexpensive and colorful flowers to plant and give your entry that extra POP of color.
Consider investing in a stylish upgrade. Take a step back and critically observe the front of your home; is everything cohesive and does it project an air of luxury? If not, see what small changes you can make. Curb appeal upgrades will bring more buyers to your property and help your home sell more quickly and for a higher price.
3. Replace the windows
Windows serve many purposes in a luxurious Pacific Northwest home. Not only do they let in natural light during the cloudy months, but they can make your home more efficient year-round. Plus, they look great inside and out!.


TIP
: Upgrading to new windows with better seals, materials, and insulation can ensure you're not losing 30% of your homes' energy to air leaks. When you're choosing new windows, opt for a design that will complement and improve the look of your house. Depending on the brand and type of windows you purchase, you're looking to invest $200 to $1,300 per window.
4. Replace the siding
Northwest weather can take a toll on paint or siding, leaving your home feeling dull and less in tune with its beautiful surroundings. When updating your siding, there are two options to consider, each affecting your return on investment.


TIP
: When replacing your siding, choosing a manufactured stone veneer can provide an aesthetically striking home that is sure to catch potential buyer's eyes immediately. Other materials such as wood and vinyl siding are also viable, though they will likely provide a lesser return on investment. Either option will be an upgrade to how the home looks now in most cases.
5. Interior renovations
Interior renovations will improve the quality of life within your home and "WOW" potential buyers as soon as they step in the front door.


TIP
: Small, affordable projects such as adding a new coat of paint, new light fixtures, and replacing doorknobs each add an aesthetic appeal, while more extensive, strategic changes can bring in a significant ROI. Both small and large changes are valuable investments.
6. Update the paint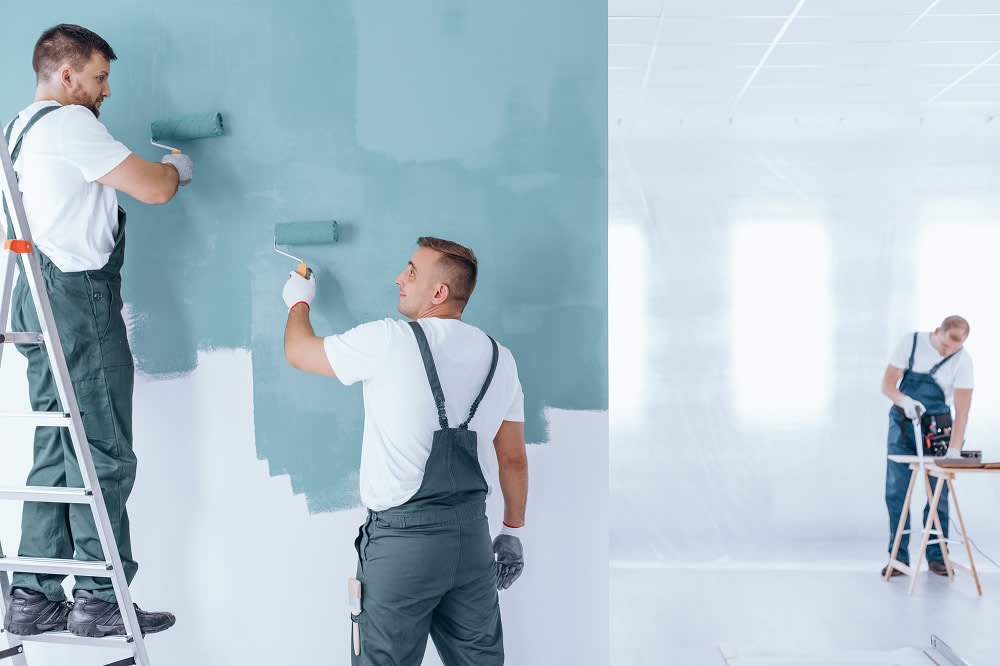 A fresh coat of paint can work wonders. If you're looking for a straightforward project that will impress buyers and ultimately help your home sell for more, touch up the walls with new paint for a good-as-new finish.
7. Bathroom remodel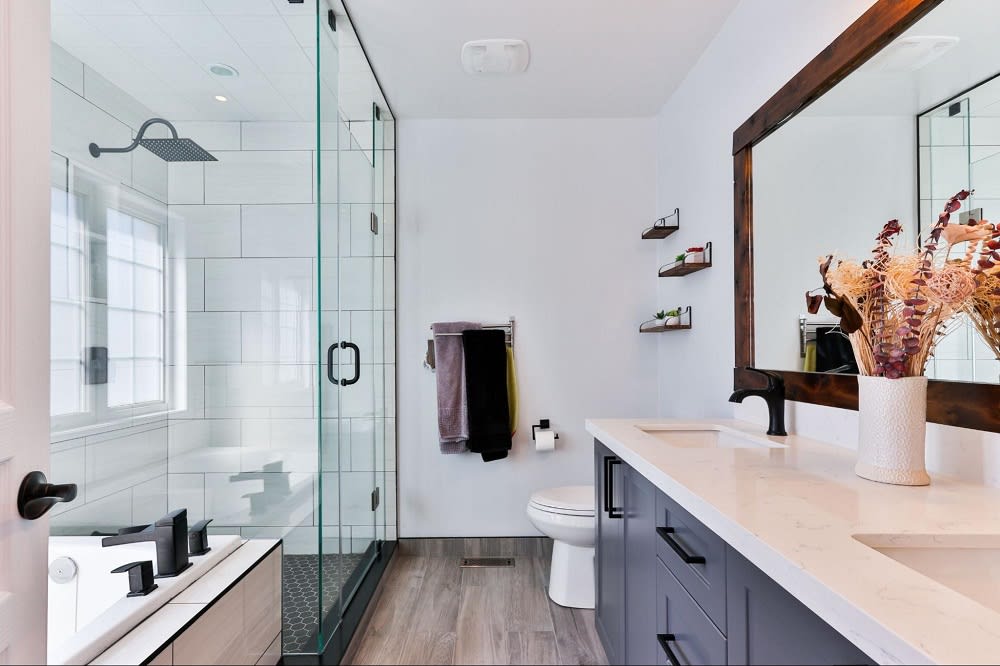 The bathroom is not the room in our house we often brag about, but it should be! Before listing your Seattle home for sale, consider updating a few key elements in your bathroom. Below are a few ideas to get you started:
Update the bathtub or shower (Ex: frameless shower)
Replace the flooring with a more durable, antimicrobial option
Install a new countertop, sink, and plumbing fixture
Apply a fresh coat of mold-resistant paint
8. Update the kitchen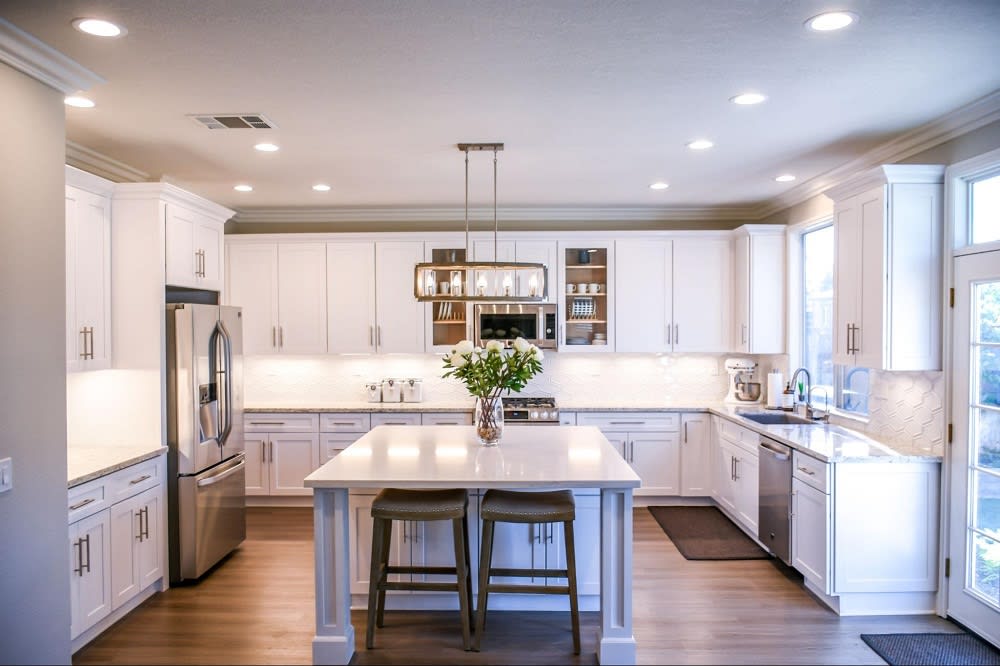 There won't be a day the future homeowner won't be using the kitchen. Small scale changes include applying new paint or stain to cabinets, replacing the sink and faucet, and replacing cabinet and drawer pulls.
Considerable changes include replacing all appliances, installing new countertops, adding a backsplash, and replacing the flooring. As a highly-trafficked area, your kitchen definitely deserves some extra attention.
9. Deep clean and declutter
Once you've finished the big renovations and updates, you'll want to make sure the house sparkles from top to bottom. A good deep clean will eradicate the dust and dirt from the renovations and make your house shine. On top of the cleaning itself, you'll want to declutter — which means removing excess knick knacks or other signs of individuality from the home. Buyers will want to be able to envision themselves living in the house, and that's easier for them to do if your presence is removed.

+ Have professional photos taken - I'll help you get this set up.
Since most listings are posted online in today's real estate market, you'll have tons of competition from other sellers in the area. Having professional photos taken will ensure your house stands above the rest even online.


If you're unsure where to find a photographer to capture the essence of your beautiful home,
Hanif Ratansi can help
.

+ Use a professional stager - I'll help you with this too.
To showcase your home improvements in the best light possible, you'll want to stage your home, ideally with the help of a professional. A home stager will take a look at your home and determine what changes or new furnishings will help it stand out above the competition.


It may be as simple as removing family photos or as intricate as rearranging the living room; but ultimately it will be worth it when your prospective buyers fall in love.
Ready to list your Seattle home for sale?
Working with
an experienced Seattle luxury realtor
gives you access to an entire network of resources for renovating, staging, and listing your Seattle home for sale. It may seem too early, but don't be afraid to talk to an agent when looking for contractors to update your Seattle area home for sale.
Hanif Ratansi
can provide the trustworthy resources you'll need to plan and complete renovations on your Seattle home—and ensure it's priced competitively for Seattle's real estate market. With deep personal experience in Seattle real estate, Hanif is a knowledgeable and service-focused realtor with all the connections you'll need for a fast and profitable sale.
Reach out to Hanif today for a consultation
!