Are you considering a relocation to the Seattle area? If so, one of the best ways to determine which neighborhood is right for you is to experience it as the locals do. Drive through Bellevue and get oriented to local parks and businesses, and then take a break to refuel with some of the most delicious fares in the area. While you're enjoying your time out, note Bellevue real estate for sale so you can come back for a closer look later.
International fare
Thanks to Bellevue's cultural and ethnic diversity, dining out is your ticket to experiencing new lands and fantastic cuisine; no passport is required. Whether your tastes tend toward Old World European or Pan-Asian flavors, your taste buds will never be bored.
Bis on Main ($$$)
Chef Sal Gonzalez provides patrons with an upscale European dining experience at
Bis on Main
. After whetting your appetite with a tray of artisanal cheeses, foie gras, or any other delectable options, feast upon braised pork shank, cassoulet, saffron, and fennel risotto.

Stopping in for an afternoon pick-me-up? Visit Bis on Main's casual lounge, which has built a reputation for a stellar wine list and premium bar. Take in the restaurant's unique and rotating gallery art and become acquainted with local talents. After choosing your new home among Bellevue real estate for sale, you may want to come back for a piece of artwork to adorn your home.
Fogo de Chao Brazilian Steakhouse
This traditional Brazilian restaurant began making waves in the U.S. when its first location opened in Dallas.
Fogo de Chao
has since expanded to other American cities, and Bellevue hosts the only location in Washington state.

This restaurant is a meat lover's dream. Attentive servers bring enormous skewers of steak, lamb, and pork and slice them right at your table every time your paddle is turned upward, indicating "More, please!" Seafood lovers will be happy to know there are lobster, sea bass, and salmon selections. If you can restrain yourself from overindulgence long enough to make it to dessert, try Fogo's signature treat, papaya cream.
Monsoon ($$)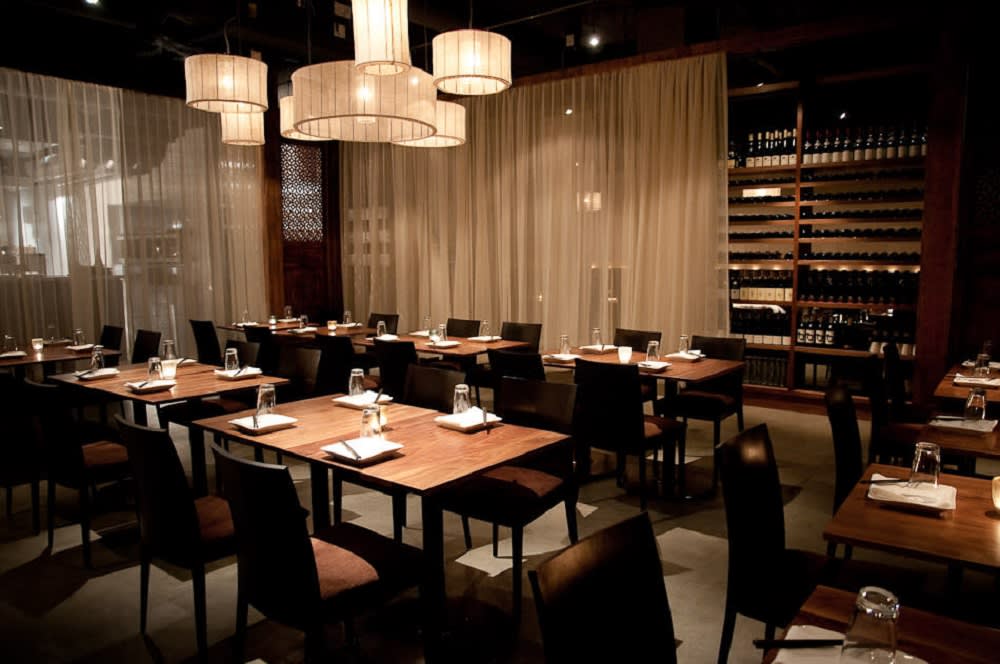 Photo courtesy of Visit Bellevue Washington
Fans of Vietnamese fare will enjoy artistically designed and shareable plates and the raw bar with excellent sushi.
Monsoon's
most popular dishes include drunken chicken, beef flank steak wraps, and Monterey stuffed squid. The atmosphere is chic and sophisticated, with ambient lighting and cozy seating. Have you been exploring Bellevue real estate for sale over the weekend? Perfect! Stop in for Monsoon's unique weekends-only brunch.
Wild Ginger Bellevue ($$)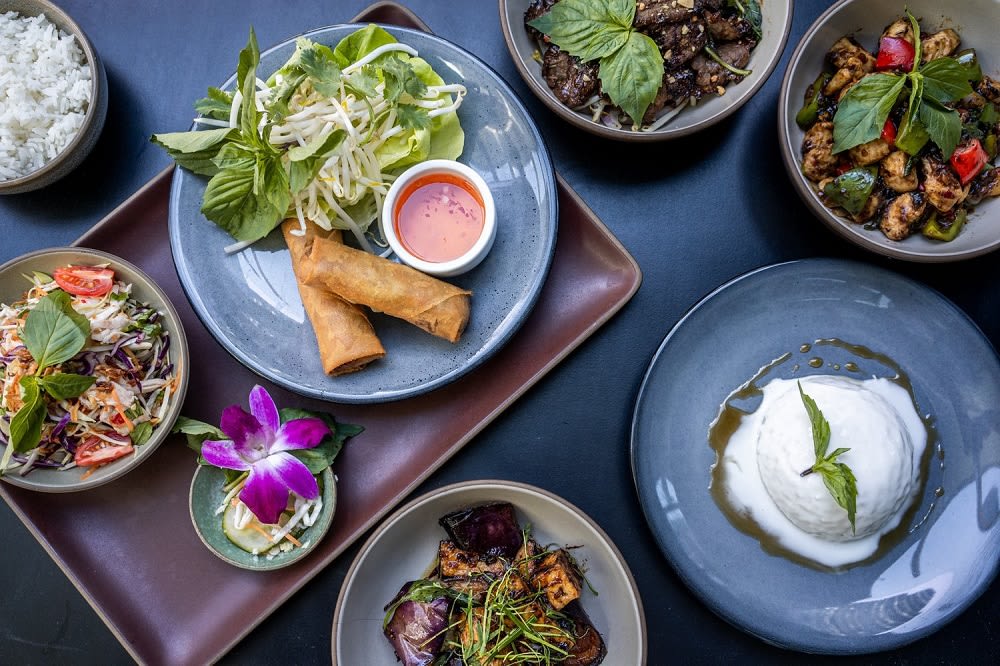 Photo courtesy of Wild Ginger
Wild Ginger
brings a Pan-Asian cultural experience to Bellevue. Dishes are inspired by cuisine from Mongolia, Indonesia, Vietnam, Korea, China, Malaysia, and Thailand. Begin with a Thai mushroom or Malay chicken satay. Consider seven-flavor beef, fragrant duck, or sea bass with peanuts and herbs for entrees. A variety of noodle dishes are also popular. Enjoy one of the assorted martinis or sake to complement your meal.
By land or by sea
When talented chefs seek to outdo each other in creating the most savory, memorable menus, the diners reap all the rewards. Maybe the only way to know who offers the most delectable steaks and tastiest seafood is to stay in town long enough to try them all.
Daniel's Broiler ($$$$)
Daniel's Broiler
, located on the 21st floor of the Bank of America building, offers spectacular views of downtown Bellevue, the nearby Seattle skyline, and the majestic Olympic Mountains. While enjoying a cocktail or an appetizer of bacon-wrapped scallops or perhaps Dungeness crab legs, enjoy relaxing on one of Daniel's decks. After you've admired the view and sampled a couple of your favorite cocktails, consider the lobster tail, king salmon, or perhaps your favorite cut of USA prime steaks.
El Gaucho ($$$$)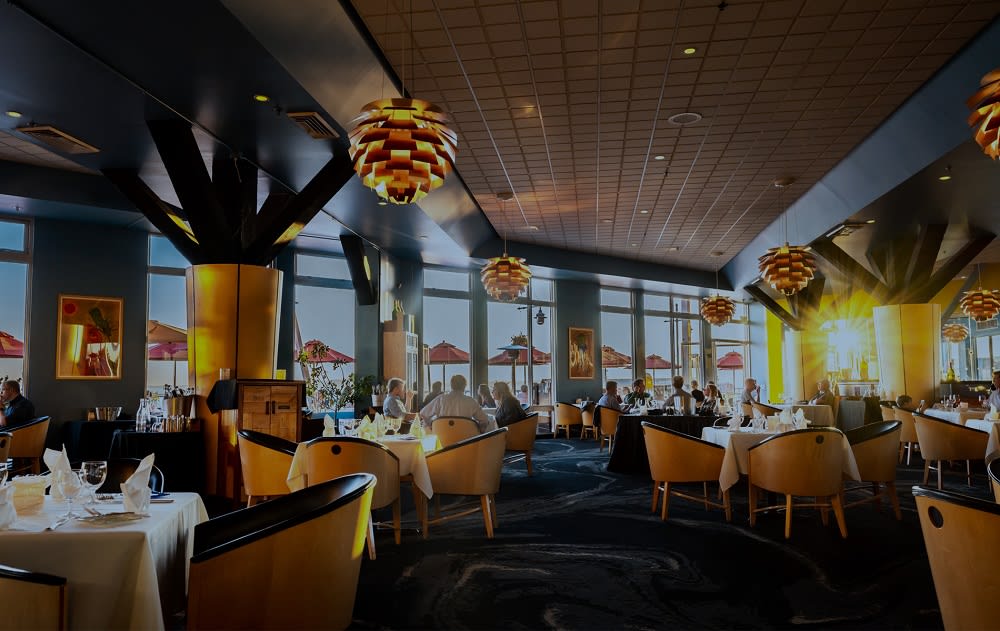 Photo courtesy of El Gaucho
Soaring, two-story windows and live piano music evoke an elegant atmosphere in this fine dining establishment. If you're looking for a quieter and more intimate experience, reserve a more private table on the mezzanine.
El Gaucho
is known for its delectable steaks. Numerous tasty side dishes are meant to be shared at the dinner party, and the wine list is diverse. Feeling more inclined to enjoy seafood? Try one of the shrimp and scallop dishes. They will not disappoint.
JOEY Bellevue ($$$)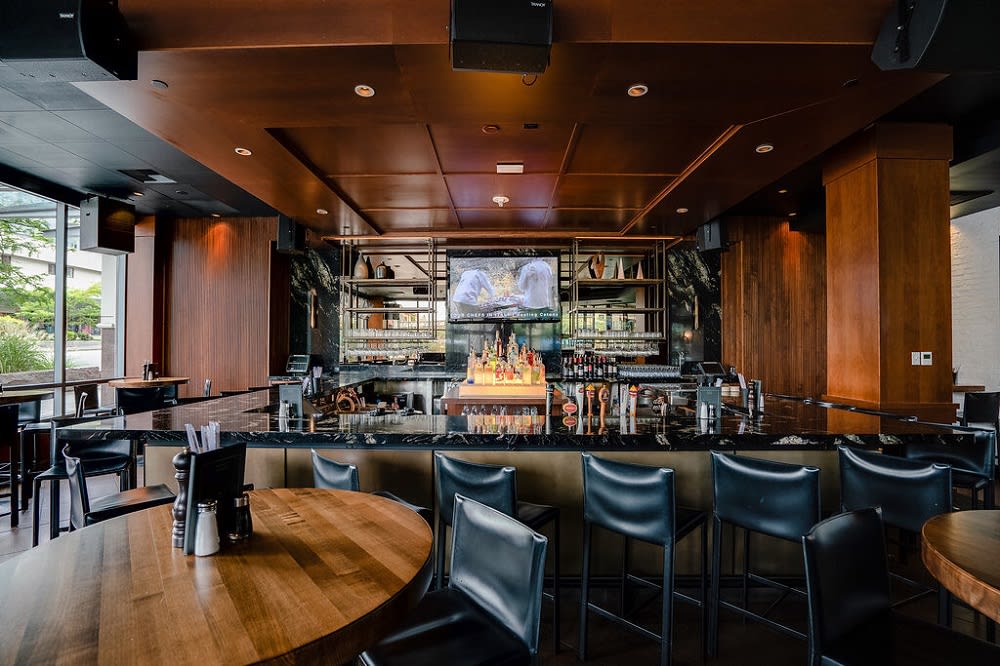 Photo courtesy of Joey Restaurants
Hailing from Canada, the owners of
JOEY Bellevue
have established a hip, urban, and eclectic restaurant that may be the perfect solution when your dinner party can't decide what sort of food everyone wants. Here you will find steaks and burgers, fish tacos and sushi, and more. Try the Mediterranean Bowl or the Black Truffle Ravioli for unique flavors. Remember, save some room for the molten chocolate cake or a crème brûlée cheesecake for dessert!
John Howie Steak ($$$)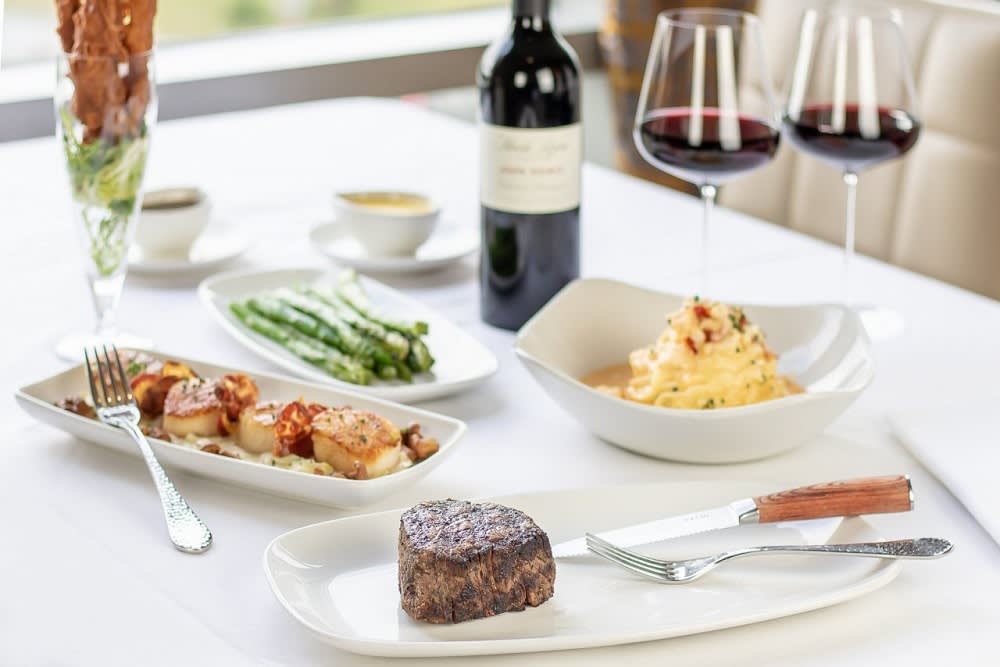 Photo courtesy of John Howie Steak
John Howie built his reputation as a chef by offering one of the finest steakhouse experiences in Washington. Here he provides patrons with excellent service in a cozy and romantic atmosphere. With wagyu beef from Australia, Japan, and the United States, the most difficult choice may be deciding which steak to order.
John Howie Steak
understands your dilemma and offers a steak combo option to let your taste buds choose. Sixty by-the-glass wines are available in addition to many bottled wine options. Ask the sommelier if you need assistance finding the perfect pairing.
Seastar Restaurant ($$$$)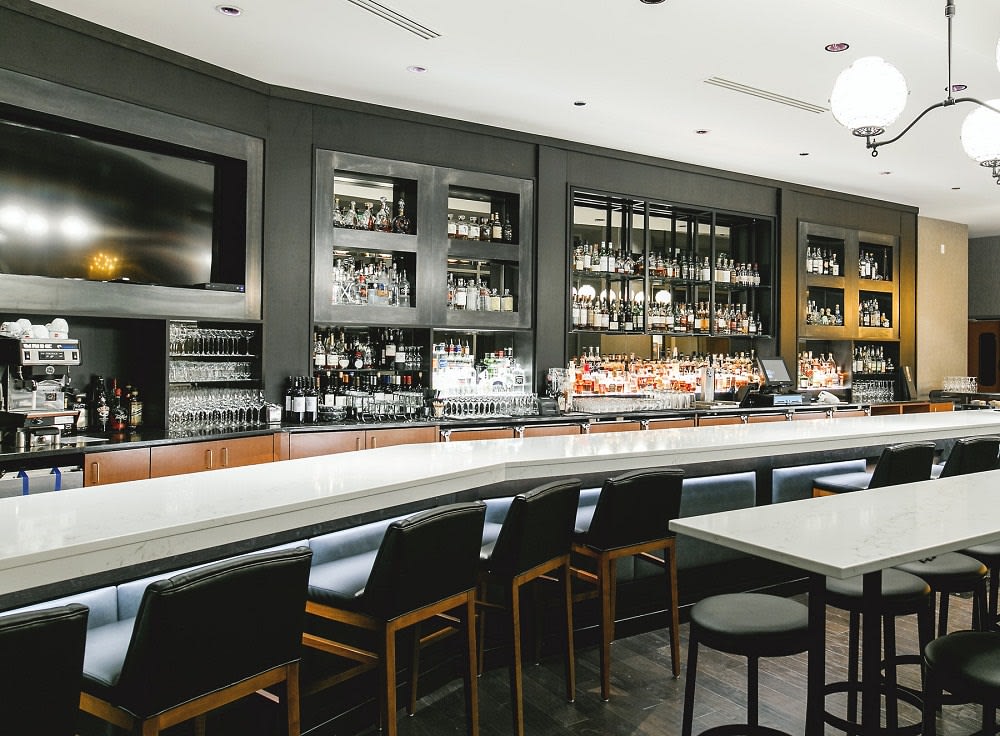 Photo courtesy of Seastar
Creating a dynamic seafood restaurant on par with his namesake steakhouse was a challenge Chef John Howie met with flair. The same attention to detail and excellence also sets
Seastar
apart as an exquisite dining experience. The raw bar features a selection of nigiri and sashimi. Try the Super Dave Roll and the delectable blend of Dungeness crab, scallops, salmon, and avocado. Seafood entrees feature northwest king salmon, steelhead, halibut, and ceviche. For the landlubbers, delicious Wagyu tri-tip and filet mignon are not to be missed.
13 Coins ($$$)
No matter the time of day you patronize
13 Coins
, you'll be offered the same delicious menu featuring everyone's favorite: brunch fare, including hearty, savory dishes such as the Italian sausage and cheese omelet or a seafood frittata. Is your sweet tooth demanding some attention? Maybe French toast will be more to your liking.

Brunch fare is not all you'll find at 13 Coins. They also offer a selection of steaks, veal, and tasty seafood. Can't decide? Order your filet mignon topped with Dungeness crab. Be sure to save room for dessert. If you're feeling generous, try bananas foster for two, or order your own 13 Coins specialty cheesecake.
Come back to celebrate
When you have found the perfect Bellevue real estate for sale and are ready to close on your new home, come back and celebrate with an elegant night out at any of these fantastic establishments. Until then, if you need the expertise of an experienced local agent to help you find your new home in Seattle, contact
Hanif Ratansi
. He can assist you with your real estate needs and will be the first in Bellevue to tell you, "Welcome home."